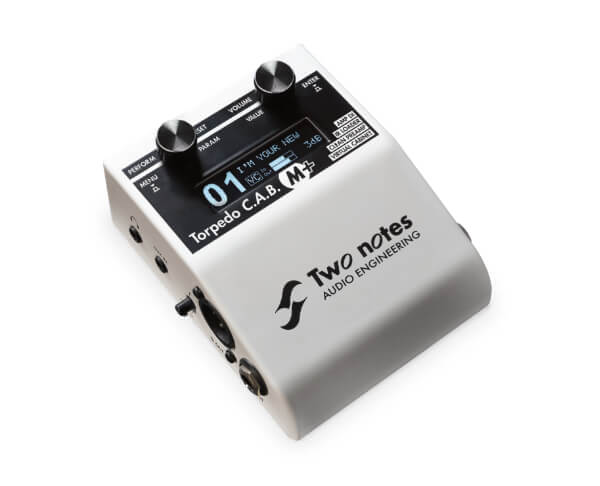 WALL OF SOUND INCLUDED
This product comes with a lifetime licence for the Torpedo Wall of Sound plug-in.
Load DynIR cabinets directly in your DAW and mix with complete control over your tone.
READ ABOUT WALL OF SOUND
Expand your cabinet collection
This product allows access to over 500 DynIR cabinets from official brands and studios.
Explore the collection now and find the perfect DynIR cabinets for your tone and style.
GET MORE CABS
INCLUDED DYNIR CABINETS & EFFECTS
Torpedo C.A.B. M+
Torpedo C.A.B. M+ ships with a broad selection of 32 DynIR virtual cabinets, a clean preamp (based on an all original '74 SilverFace B'man), tube power amp emulations and a wide range of effects.
Torpedo Remote? What's it for?
Torpedo remote is a piece of software designed to make controlling your Torpedo device as easy as possible.
To find out how to get started with Torpedo Remote, please read this article.
---
Pedal Platform?
Due to it's compact size and huge versatility, Torpedo C.A.B. M+ is the perfect pedal board solution for DI'ing your rig.
To find out more about how it is the ultimate pedal platform, please read this article.
---
What's the big deal about "Dual Miking"?
Dual miking adds a depth and quality to your tone that just cannot be found when using single static IRs.
To find out more about dual miking please read this article.
---
Is it standalone? Do I need a computer?
You can us it standalone, but some of the editing, (including changing cabinets within the Torpedo C.A.B. M+), will require USB connection to Torpedo Remote. Most of the tonal tweaking can be done from the Torpedo Wireless Remote app via a phone/tablet.
---
Is it a load box?
There is no load box within the Torpedo C.A.B. M+ – for the safety and protection of your amp we recommend using a Torpedo Captor or Reload to absorb the literal load of the amplifier.
---
Can I connect it to a FRFR speaker?
From the XLR/line out only, the speaker out should go to a regular guitar/bass cabinet.
Specifications
Torpedo C.A.B. M+
Input / Output
Amp/Inst/Line Input:
1/4″ Jack balanced (TRS)
In Level Switch*:
+12dB: Max level: 4 dBu, Impedance: 1 MOhms
0dB: Max level: 16 dBu, Impedance: 57 kOhms
-24dB: Max level: 40 dBu, Impedance: 47 kOhms
*Affects input sensitivity and impedance
Aux In:
1/8″ (3.5mm) TRS Jack
Downmixed to mono
Speaker output*: 1/4″ Jack balanced (TS)
*Unprocessed, unbuffered, directly connected to Amp In
DI output*:
XLR balanced
Max level: 10 dBu
Impedance: 300 Ohms
*Protected against +48V phantom power

Line output:
1/4″ Jack balanced (TRS)
Max level: 10 dBu
Impedance: 300 Ohms
Headphones output:
1/8″ Mini-Jack (TRS)
USB connector:
USB 2.0 Micro-B
Memory card:
256Mb Micro-SD included Up to 32Gb cards supported
Digital Audio
AD/DA Converters:
Studio-grade 24-bit / 96 kHz
Bandwidth (-1dB):
30 Hz – 19 kHz
Signal-to-noise ratio:
91 dB
Internal Processing:
32-bit floating-point
Latency:
2.2 ms (Line Input to Line Output)
Power
Power input connector:
DC connector, 2.1mm x 5.5mm, center negative
Supplied adapter:
100-240v AC to 12v DC 1A
Power consumption:
Approximately 2W
Current consumption:
200mA
Dimensions & weight
Width x Depth x Height*:
12.1cm x 10cm x 6cm – 4.8″ x 4″ x 2.4″
*Including connectors and knobs
Weight: 450 g / 0.99 lbs
How to Upgrade your C.A.B. M to the C.A.B. M+ Firmware
FREE FIRMWARE UPGRADE
If you have the original Torpedo C.A.B. M and have not yet upgraded to the C.A.B. M+ firmware,  follow these simple steps … 
Install the latest version of Torpedo Remote for Windows or macOS – links in Downloads section below.
Connect your Torpedo C.A.B. M to your computer and start Torpedo Remote.
If you have not yet created a Two notes account (via Torpedo Remote or Two notes website) and registered your device, please do so now.
Follow the firmware update prompt and install.
Like the original C.A.B. M, the C.A.B. M+ includes 32 DynIR Virtual Cabinets. Please note that some of the cabinets selected to ship with the new C.A.B. M+ hardware have been swapped to compliment the new presets in C.A.B. M+ hardware.
If you have an original C.A.B. M and update your firmware to C.A.B. M+ (for FREE) , you keep your existing 32 virtual cabinets from your original purchase and enjoy the benefits of the upgrade – stunning clean preamp (inspired by an all original '74 Silverface B'man), refined power amps, enhancer, tuner, expanded reverbs and noise gate.
DOWNLOADS & MANUAL
Torpedo C.A.B. M+