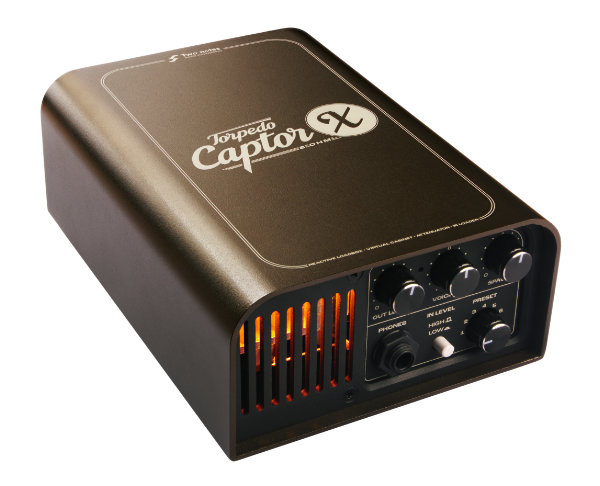 WALL OF SOUND INCLUDED
This product comes with a lifetime licence for the Torpedo Wall of Sound plug-in.
Load DynIR cabinets directly in your DAW and mix with complete control over your tone.
READ ABOUT WALL OF SOUND
Expand your cabinet collection
This product allows access to over 500 DynIR cabinets from official brands and studios.
Explore the collection now and find the perfect DynIR cabinets for your tone and style.
GET MORE CABS
Included DynIR Cabinets & EFFECTS
Torpedo Captor X
Torpedo Captor X SE is preloaded with a vintage-inspired selection of 32 DynIR cabinets for guitar and bass.
Register your Captor X SE (via Torpedo USB Remote) hardware to claim 10 additional DynIR cabinets from the Anniversary Edition Cabinet Collection.
What's the difference between the Captor X and the Captor X SE?
Aside from the limited run colorway, an amber grille light, a vintage-inspired hard-coded cabinet collection, the Anniversary Edition Cabinet Collection and the Exclusive Preset Assemblage from Pete Thorn, Captor X SE features the same functionality as its predecessor. 

---
Can I mismatch the impedance of the Torpedo Captor X SE and my amp / speaker?
It is generally accepted that a small mismatch is not a problem providing you play the amp at a low level; however, due to the differences in the specifications and engineering practices between amplifier manufacturers, there is no hard-and-fast rule; as such caution should always be taken when actioning an impedance mismatch.
WARNING Before mismatching impedances – please read this article.
---
Can I use an amp more powerful than the rated power of the Torpedo Captor X SE?
The published ratings of amplifiers do not follow a uniform pattern. For example, some tube amps (either vintage or vintage-inspired), can output more power than advertised.  
If your amplifier outputs more than 100W RMS, discover how to protect your amp when using a Torpedo Captor with this detailed article.
---
What is a load-box / attenuator?
A load-box/attenuator provides a dummy load to run a tube amp at a reduced level or silently (in place of a speaker cabinet).
To discover more about load-boxes and attenuators and what they do, and more importantly how they protect your amp, find out more in this article.
---
Torpedo Remote? What's it for?
Torpedo Remote is a software application designed to make controlling your Torpedo device as effortless as possible. Discover Torpedo Remote here.
For more information about how to use Torpedo Remote with your Captor X, please read this article.
---
Why should I register my Captor X SE?
When using Captor X SE in conjunction with Torpedo Remote for the first time, you are asked if you would like to register the product with Two notes. When the Captor X SE is registered to your account, we will drop the Anniversary Edition Cabinet Collection onto your licence and send you a Download link to the Pete Thorn Preset Assemblage

---
Is it standalone? Do I need a computer?
You can use Captor X SE standalone, but some editing (including changing cabinets within the library) will require a USB connection to Torpedo Remote. Most of the finer tweaking can be performed in the Torpedo Wireless Remote app via a phone/tablet.
---
Can I use Captor X SE with a preamp?
Captor X SE requires a high level of input to operate, specifically the output of a power amplifier. Without a high level of input, you run the risk of damaging the device. As such, Captor X SE should only be used alongside suitable amplifiers and power amps.
---
Can I connect Captor X SE to an FRFR speaker?
You can indeed via the conveniently-located XLR outputs only. The Captor X SPEAKER OUT has been designed for regular guitar/bass cabinet use.
---
Can I use the outputs simultaneously? (headphones, XLR and speaker outputs)
Absolutely, all outputs work simultaneously and independently. For example, you can play your amp and use the attenuator (via the speaker output), while sending the full torpedo processed signal of your amp to your DAW (via the XLR outputs).
---
Input / Output
Speaker input:
1/4″ jack unbalanced (TS)
Speaker output:
1/4″ jack unbalanced (TS)
Headphones output:
1/4″ jack balanced (TRS)
Left / Right outputs:
XLR Balanced
Maximum output level: 15 dBu
Impedance: 600Ω
MIDI input:
1/8″ jack balanced TRS
Jack to MIDI cable adapter supplied
USB connector:
USB 2.0 Micro-B
USB Micro-B to USB A cable supplied
Dimensions & weight
Width x Depth x Height*:
12.8cm x 17.5cm x 6.4cm – 5″ x 6.7″ x 2.5″
*Including connectors and knobs
Weight:
1300 g / 2.9 lbs
Load box
Maximum Admissible Power :
100W RMS
Impedance :
8Ω
Attenuation levels :
-38 dB, -20 dB, 0dB
Digital Audio
AD/DA Converters:
Studio-grade 24-bit / 96 kHz
Bandwidth (-1dB):
30 Hz – 19 kHz
Signal-to-noise ratio:
> 95 dB
Internal Processing:
32-bit floating-point
Latency:
2.2 ms (Speaker Input to Left/Right Outputs)
Power
Power input connector:
DC connector, 2.1mm x 5.5mm, center negative
Supplied adapter:
100-240v AC to 12v DC 2A