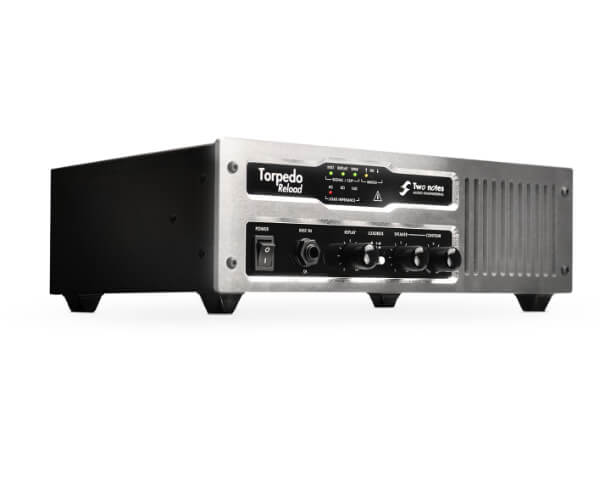 RE-ACT™ Load box
Keep your amp tone intact
As the output of your amp increases, your speaker reaction changes because of nuances within speaker impedance. The Two notes Reactive-Active Technology (RE-ACT™) gives your amplifier a consistent speaker impedance that makes the amp behave as if it was plugged into a real speaker / cabinet, at any attenuation setting.
CONTOUR KNOB
HUGE GUITAR TONES AT LOW VOLUME
Playing loud comes with the sensation of a bold, powerful tone that feels like your are standing in front a wall of sound. The Contour control mimics the reactive sensation of your amp when using Reload's attenuator. The Contour control allows huge guitar tones from the amp, at sensible volume levels.
WALL OF SOUND INCLUDED
This product comes with a lifetime licence for the Torpedo Wall of Sound plug-in.
Load DynIR cabinets directly in your DAW and mix with complete control over your tone.
READ ABOUT WALL OF SOUND
Expand your cabinet collection
This product allows access to over 500 DynIR cabinets from official brands and studios.
Explore the collection now and find the perfect DynIR cabinets for your tone and style.
GET MORE CABS
Included DYNIR CABINETS & Effects
With Torpedo Reload (via WAll of sound plug-in)
Torpedo Reload is a 150 Watt RMS Reactive Load Box that can be switched between 4, 8 or 16 Ohms. Register your Torpedo Reload hardware to claim your 24 free DynIR cabinets and your Torpedo Wall of Sound lifetime licence.
What is the primary difference between the Torpedo Captor and the Torpedo Reload?
The Torpedo Captor is a passive attenuator and does not require a power supply when used solely as an attenuator. It features a simple, non-adjustable attenuated output (ATT). A power supply (or phantom power) is only required when using the XLR DI output. The Torpedo Reload attenuator is active (requires power) and has a continuously adjustable attenuated output (zero to full). The Reload also features a full set of re-amping tools.
Differences between the Captor and the Reload – full article.
---
Can I mismatch the impedance of the Torpedo Reload and my amp / speaker?
There is not a general rule but it is widely accepted that a small mismatch is not a problem if you keep the amp at a low level.
WARNING Before mismatching impedances – please read this article.
---
Can I use an amp more powerful than the rated power of the Torpedo Reload?
Please note the published ratings of amplifiers do not follow a uniform pattern. For example, some tube amps (mostly vintage or from vintage inspiration) can output more power than advertised. This is because some manufacturers give power ratings for the amp played clean and it is not uncommon to see a 120W vintage non-master volume and/or single channel tube amp outputting up to 200W when cranked up to max.
If your amplifier outputs more than 100W RMS, discover how to protect your amp when using a Torpedo Reload in this article.
---
What is a load box?
The term that describes a speaker cabinet with respect to the amplifier is the "load" and when using a tube amplifier, you should always connect to a speaker cabinet or "load". The embedded load in the Torpedo Reload is reactive and it simulates the complex impedance of a real speaker. Unlike traditional resistive loads, the Torpedo Reload reactive load feels like you are still connected to a cabinet, retaining the warmth and dynamics of your amplifier. The reactive load takes the place of your speaker cabinet in your signal chain.
To find out more about reactive load box technology and caring for your amp when using a load box, please read this article.
---
What is RE-ACT technology?
RE-ACT is short for "Reactive-Active Attenuator". If you really want to nerd out, and find out why this makes the Torpedo Reload the most useable attenuator, please read this article.

---
Is the Torpedo Reload 100% analog?
The Torpedo Reload is 100% analog.

---
Does the Torpedo Reload have cab sim?
There is no cabinet emulation within the Torpedo Reload. You would need to use a software product like the Torpedo Wall of Sound or a stand alone hardware unit like the Torpedo C.A.B. M+.
---
Specifications
Torpedo Reload
Input / Output
Speaker Input :
1/4″ Jack unbalanced (TS)
Speaker Outputs :
2x 1/4″ Jack unbalanced (TS)
Minimum load : 4 Ohm
Load box Output :
XLR balanced
Max level: 20 dBu
Impedance: 600 Ohms
Replay Line Input :
1/4″ Jack balanced (TRS)
Max level: 36 dBu
Impedance: 20 kOhms

Replay Line Output :
1/4″ Jack unbalanced (TS)
Max level: 19 dBu
Impedance: 300 Ohms
DI Inst. Input :
1/4″ Jack unbalanced (TS)
Impedance: 1 MOhms

DI Output :
XLR balanced
Max level: 20 dBu
Impedance: 600 Ohms
Reactive Load Box
Adjustable impedance :
4, 8 or 16 Ohms
Max admissible power :
150W RMS (200W peak)
Safety system :
Temperature-controlled fan
Active thermal safety
Power
Input voltage :
100v or 115v or 230v
50-60Hz
Plug type :
Standard IEC Lead
Dimensions & weight
Width x Depth x Height* :
32cm x 20cm x 8.9cm – 12.6″ x 7.9″ x 3.5″
*Including connectors and knobs
Weight :
4.5 kg / 10 lbs