Combining the classic tone of both vintage & Modern valve amps with our embedded technology, the D40 delivers a one-stop-solution for the contemporary player
REVV are back with their latest all-valve 40-Watt head, the D40. Fusing dual channel operation, bright & boost voices for both channels and a vintage voiced digital reverb, the D40 packs the greatest hits of both American and British tones into one amp, brimming with Revv's modern technology & design philosophy. Whether it's creamy saturated gains or touch-sensitive high-headroom cleans, the D40 guarantees to transport you into your favourite albums with all the modern convenience your performance demands.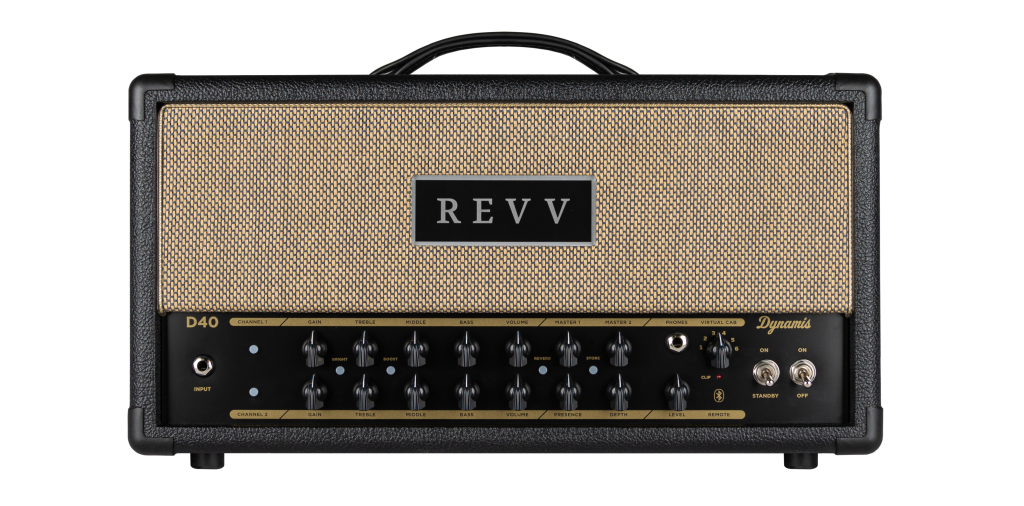 You guessed it! The D40. features our class-leading cabinet emulation. First up, there's the 6-way rotary knob for selection of one of six expertly curated DynIR Presets. Need to tweak your tone? Dive into Torpedo Remote via USB or Bluetooth and build your cabinet specifications to taste.
Conquering the dividing line between sublime authenticity and uncompromising digital emulation, DynIR represents the pinnacle in virtual guitar- and bass-cabinet technology. Harnessing power equivalent to 160,000 studio- grade IR files, each Two notes DynIR can be shaped to the needs of even the most discerning tone chaser. With 8 mics per cabinet, dual mic-ing and 10K mic positions (front & back), unleashing your tone and finding your signature sound has never been simpler.
The D40''s Stereo XLR direct balanced Torpedo output provides everything you need to send your signal to a studio interface or front of house. Plus, with comprehensive MIDI In & Out capability, taking command of your preset arsenal has never been easier!
For more information and to find your nearest REVV stockist, head over to: https://revvamplification.com/