♦
---
Excited? You should be! NAMM 2022 is here and in celebration we've pulled out all the stops!
First, there's the new-for-NAMM ReVolt Series: 2 all analogue amp sims hell-bent on delivering nothing short of perfection when it comes to your foundation tone.
Then there's GENOME: a software ecosystem and adaptive channel strip, engineered to empower the forward thinking player with the ultimate DAW-ready mixing tool and hybrid-setup core. Top this off with our existing heavy hitters (including Captor X, C.A.B M+ and Captor), plus new torpedo-embedded tech from Laney, Victory and Revv, and we're sure you'll agree, this is going to be a big one!
If you're in Anaheim, come and see us in Hall D, Booth #5239. Not heading stateside? Check in on our socials for live updates from the booth.
---
♦
THE TRIPLE THREAT
Enter ReVolt Guitar and ReVolt Bass: 3 channel all-analog guitar and bass amp simulators engineered with a singular mission: to empower you with the pinnacle in foundation tone.
It's a fact: DI is convenient. It's reliable. It's a pure unadulterated tone that's surgically controlled to the smallest iota. There's just one snag; It lacks the all-important warmth synonymous with tube amps.
The ReVolt Series' 12AX7 preamp tube running at 200V has been expertly tuned to enrich your tone with undeniable tube mojo. The result is revolutionary. You retain all the convenience of a DI signal, now with the warmth, the bite, the all-important response only tubes can provide.
Find Your Torpedo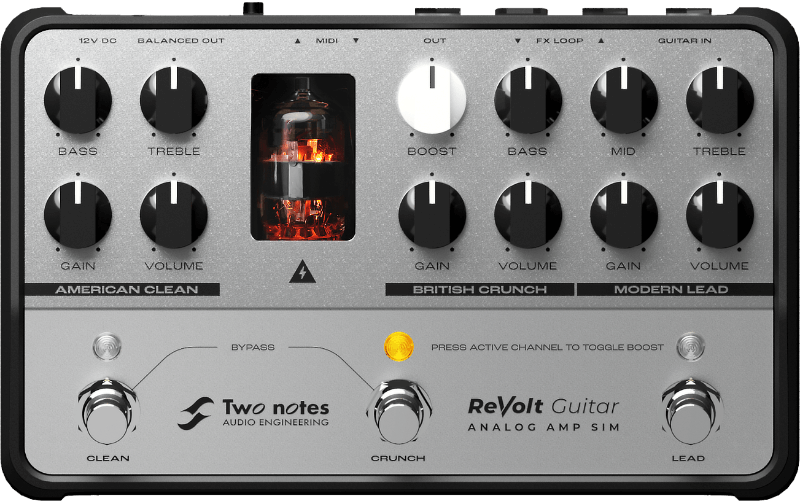 ReVolt Guitar
ReVolt Guitar is your secret weapon when it comes to must-have tone that's primed for virtually any scenario! Center stage on ReVolt Guitar are a trio of tonally-district channels inspired by a Fender® Bassman 100, a Marshall® JMP Superlead and a Soldano® SLO 100.
For players looking to cut above the mix, or simply drive ReVolt Guitar's all-analog signal path, the integrated OD-Boost circuit is primed to deliver on all counts. Dial in your boost level, tap switches 1 + 2 simultaneously, and dive headfirst into a world of boosted clarity and lush harmonics.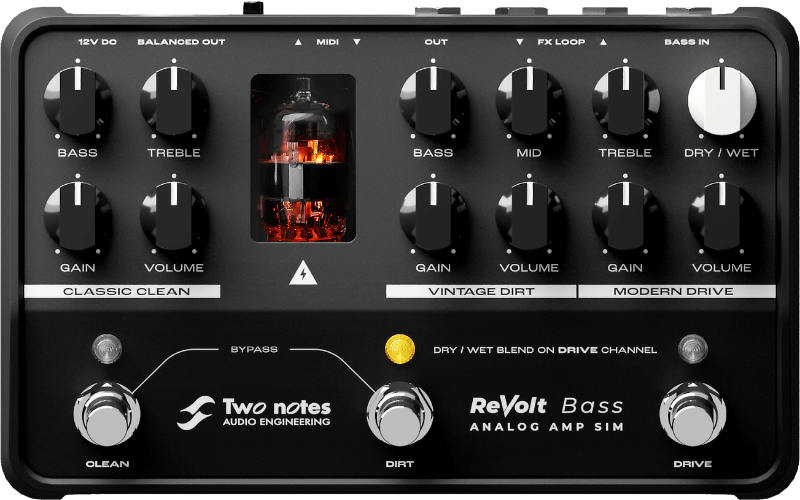 ReVolt BASS
For our bass-playing brethren, ReVolt Bass has been engineered for nothing short of unbridled tonal excellence. With 3 channels inspired by legendary bass tones including an Ampeg® SVT '76, a Marshall® 1992 JMP Super Bass Mark II and a custom proprietary high gain Bass amp, it's a sure-fire guarantee for reliable tone whatever the situation demands.
When you need best-of-both-worlds – the rounded thump of your dry DI signal with the snarl of surgically tuned distortion – ReVolt Bass' Modern Drive channel is the answer. Dial in your wet/dry blend and enter a world of saturated Analog bliss without sacrificing the pin-point precision you need.
That's not all folks!
For expanded tonal possibilities, the ReVolt Series are jam packed with every feature you expect from an amp sim. A super durable, road ready chassis? Check! An FX loop and 4-cable mode? Check! Analogue Cab sims! Oh yes! Two notes' gets it: Your Tone Matters. Why settle for anything short of perfection?
ReVolt Guitar and ReVolt Bass will be available from the Two notes store and our network of Two notes retailers in September 2022. For more information, check-out the links below!
Register today for the GENOME Beta Testing Program
Fusing the world's most advanced virtual cabinet emulation, complete with a suite of world-class Studio FX, GENOME promises the ultimate ecosystem for hybrid- and plugin-based rigs, engineered to elevate any amplifier's tone to never before ventured heights.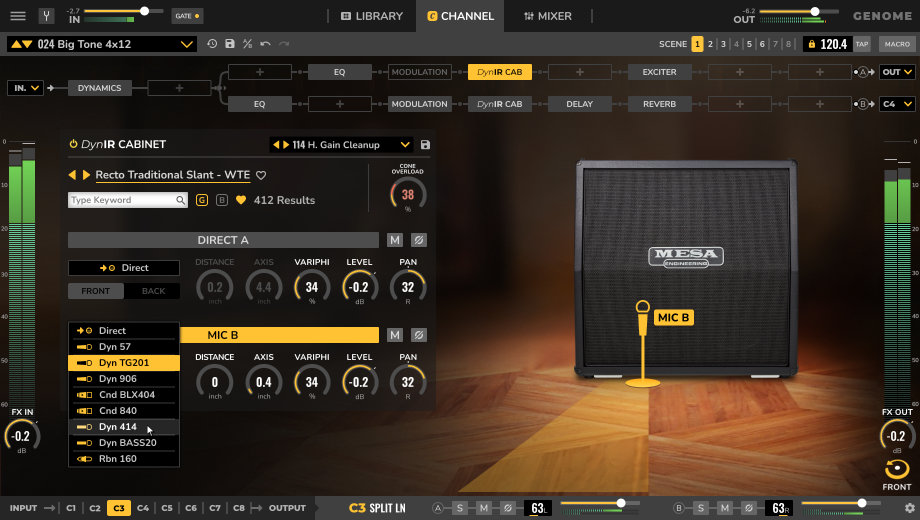 NEXT-GEN DYNIR CAB SIM
At its core: next-generation DynIR cabinet emulation for on-demand access to 500+ virtual guitar & bass cabinets, studio-grade microphones and pristine recording environments.
For total command of the post-amp signal chain, GENOME's surgically-tuned Studio FX and player-centric workflow empower you with the pinnacle in next-generation pro-grade tools.
Available in plugin- and standalone-formats, and offering cross-platform compatibility courtesy of a handy IR Export feature, GENOME is primed and ready to deliver consistent, reliable tone from the studio to the stage.
Go Direct
This isn't just another run-of-the-mill cabinet simulator. GENOME is a purpose-built adaptable channel strip developed to exceed the exacting standards of the modern player. Better yet, it's versatile and effortless to set up.
Using an outright in-the-box setup? Simple, set GENOME as your post-virtual-amp plugin. Got a collection of physical amps? Grab a Captor or Captor X, line the DI signal into your DAW and dive into a world of surgical tone-shaping.
What about Modelling Processors and Pedal-Boards? Disable your cab sim, hook up to your DAW and let GENOME do the hard work. Whatever your rig – and regardless of whether it's live or in the studio – GENOME's ecosystem at the tail end of any amplifier is a true force to be reckoned with.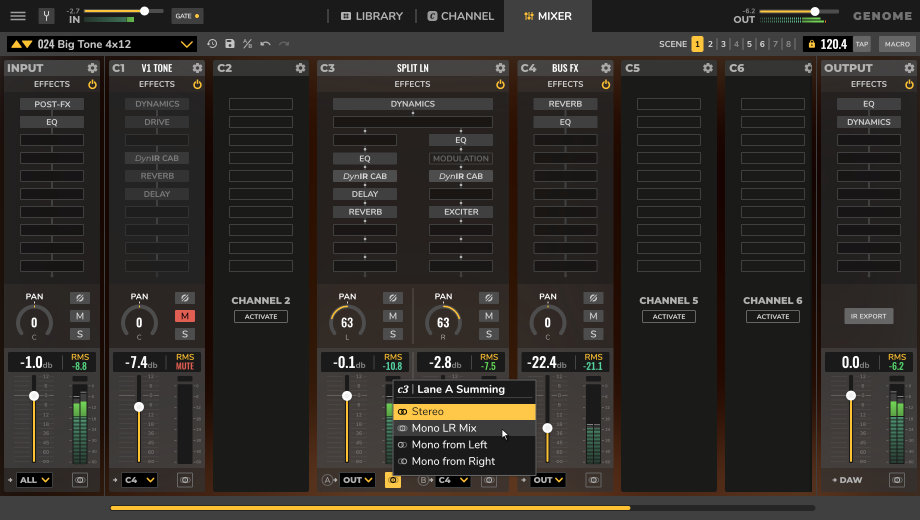 Register Today!
Want to get your hands on GENOME first? Register today for the GENOME Beta Testing Program using the link below. Testing starts in September 2022, so register today to avoid missing out!
Register for the GENOME Beta Test here