If you spend more than approximately 10 seconds in the Two notes
DynIR
store, you'll see the same name come up again and again… and again. Our most prolific capture master, Adam Steel (
Hop Pole Studios
), has been at it again! This time he's got down to his British roots and captured some exclusive and hard to come-by cabinets that have one thing in common: Classic British Tone! We present to you "
Hop Pole – The Best of British
". Not only are
Hop Pole
constantly capturing cabinets they find themselves, but they are the first port-of-call in the UK for capturing cabinets. If you don't have any Hop Pole cabinets in your collection (unlikely) we bet you've got a few he's captured on behalf of others. Got
Victory
? Got
Laney
? Got
Ashdown?
If so, then you've most certainly experienced Adam's work already!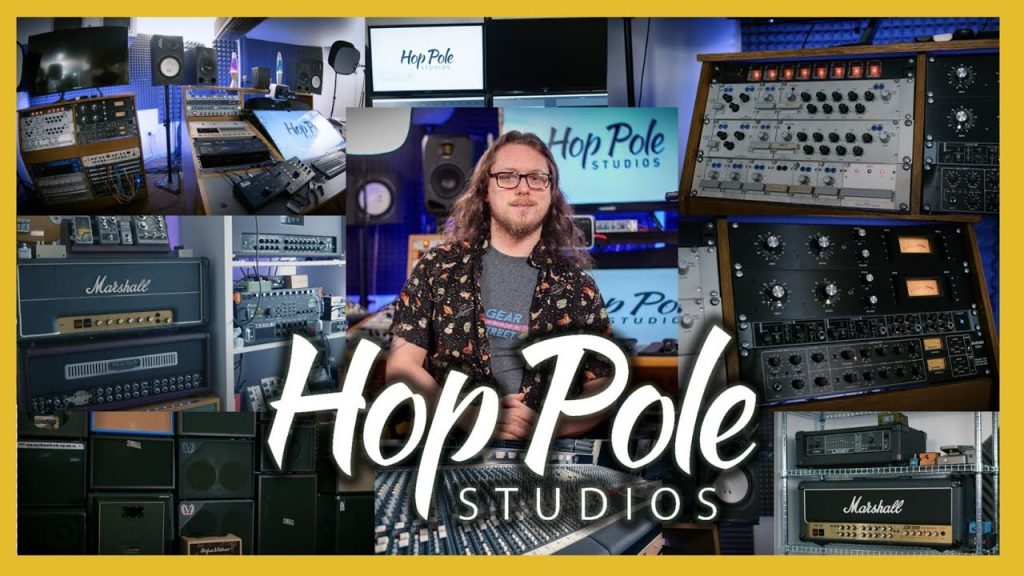 So, what makes DynIR so special? Well, you have 8 mics for each cab, the option for placement in multiple rooms and the ability to move the mic around (in front or round the back of the cab) – you can even hear the difference in real time. One single DynIR is the equivalent to 1.6 million static IRs. There are 7 cabinets in the pack, 6 for guitar and 1 for bass. From a small 1×10″, that has Royal heritage, right up to some vintage screaming Marshall's®, and even a custom built 2×12″ bass cab that thinks it's an 8×10″ – it's all here, all in DynIR. As always, each DynIR virtual cabinet will cost you just 10€/$ (USD), and the full Best of British Collection (7 cabs) is 55€/$ (USD)
BlazeTone420 Inspired by a Zilla® 1×12 Fatbaby super deep closed back cab loaded with a Celestion® Hempback speaker. This DynIR exhibits super-warm, smooth tones, great for singing leads and combining with a brighter cab for an awe-inspiring wall of tone.
DeekySpeeky Proof that BIG tone comes in small packages! Inspired by a Zilla® 1×10 cab, barely bigger than the speaker itself and loaded with a Celestion® G10 Creamback, 45W, this DynIR sings with tons of clear mids – just like the speaker Queen had as their secret weapon. No low end, but that makes it great for leads that will sit perfectly in the mix.
BigGreenBeast Inspired by the best-selling BigBeast Zilla® 4×12, but updated with a pair of Celestion® G12H Anniversary speakers alongside the Vintage 30s in an X-pattern – the G12H is the one mic'ed up for a more classic sound from this deep, solid, smooth cab.
PurpleHaze Inspired by a super rare Marshall® Tall-Box 1982B – especially made for the Hendrix 25th Anniversary in the early 90s. It's truly huge, and outfitted with legendary G12 Greenbacks, that have been well used for the last 30 years. Better yet, it's purple!
GodsBritG12H Inspired by an Oversized Marshall® Mode Four cabinet MF400A, retrofitted with 2 early Vintage 30s and 2 G12H Anniversary speakers – it's the G12H that is miked up for a big-cab sound but with some unmistakeable classic tone.
Fable Inspired by a Wharfedale ® / Albion ® cab that's technically made overseas, but from a British company. It's a rare 4×12 that features its own brand speakers, made to sound like the Vintage 30 but without the piercing top end. Mid-forward and smooth, it's a secret weapon of Ulrich Wild and Adam himself!
MiniFridge12 Inspired by a 2×12 Zilla® bass cab, loaded with Celestion® Neo speakers. Based on an Ampeg® 810 design – because that's actually 4 2x10s in a trench coat (they're all sealed separate sections) – this rear ported bass cab guarantees a velvety vintage punchy sound.
The
6
guitar cabinets have been meticulously captured with a selection of industry standard microphones including the
Shure SM57
®,
Sennheiser
®
MD421
,
Extinct Audio Black Ops
®
Ribbon
(very similar to a 121),
AKG
®
C414
,
Neuman
®
KMU87
,
AKG
®
D112
,
Shure
®
SM7b
and an
EV
®
RE20
. The bass cabinet has been perfectly captured with a selection of industry standard microphones including the
Shure SM57
®,
Sennheiser
®
MD421
,
Extinct Audio Black Ops
®
Ribbon
(very similar to a 121),
AKG
®
D112
,
Neuman
®
U47
,
Shure
®
Beta 52
,
Yamaha
®
Subkick
and an
Audix
®
D6
. All DynIR's were captured through
BBC
®
AM7/13
preamps via an
Audient
®
ASP880
. The all-new Hop Pole Best of British Collection of DynIR virtual cabinets are compatible with all DynIR-enabled Torpedo hardware (including Captor X, C.A.B. M+ and digital legacy products), 3rd party Torpedo embedded devices and the Torpedo Wall of Sound v4 audio plug-in (Mac/PC).
'

I've been chasing the "ultimate guitar tone" for 20 years now. A long time ago, the goal became getting these great guitar cab sounds from the physical world into the computer so I could take my hard work with me – and so Hop Pole Studios and Two Notes began a wonderful working relationship that's become something far greater than I could have possibly imagined. Still driven to find those ultimate sounds, and broaden the tonal palette, I came up with the Best Of British pack to show off my most recent discoveries and creations – some of these you won't find anywhere else as I had the physical cabs commissioned for this project!

'

–

Adam Steel – Hop Pole Studios
You can check out the cabinets, and tones, in this excellent video from the man, the myth, the legend – Mr Adam Steel of Hop Pole Studios!
Buy Now and Grab Yourself a 30% Off Coupon
When it comes to DynIRs, Hop Pole Studios are prolific. To celebrate the release of the Best of British Collection, we are offering purchasers of the collection a unique 30%-off coupon valid until the
25th November 2021
; simply purchase the pack before this date and we will send you your unique coupon code for redemption across the entire Hop Pole catalogue – including an immense collection of 57 cabs and 6 packs!