You want to play through a legendary speaker cabinet as owned and used by Steve Vai? Everyone knows you can rock up to any store and buy awesome gear with his name on it and it will give you his current tone – well, as much as it can unless you have access to his hands – but, have you ever listened to THOSE moments of Vai history and thought… I want that! Whether it's the classic tones from "Eat 'em And Smile" and "SkyScraper" with Dave Lee Roth, or his solo "Sex and Religion" tours, then we've got what you need: That cab, that tone and a piece of Vai history, right in your Torpedo embedded Device.Following on from the unprecedented success of Big Hairy Guitars' / Michael Nielsen's first foray into the realm of DynIR with The "Big Hairy Guitars Collection", he is back with an exclusive capture of one of the most iconic cabinets of all time – THE cabinet used by Steve Vai at the absolute height of his 80's and 90's period of innovation, when he was not taking any prisoners (not that he does these days, but you know what we mean!).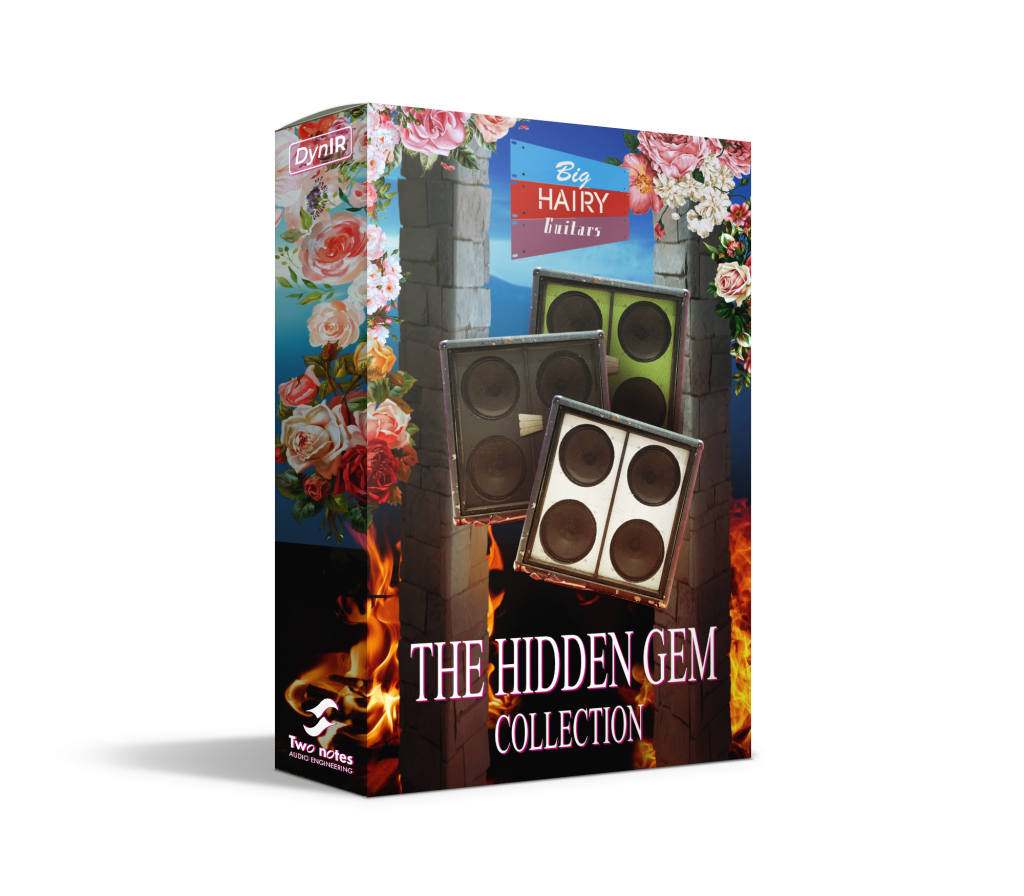 BUY THE HIDDEN GEN COLLECTIOn NOW
The basis of the cabinets is a Marshall® 1960BV 4×12″, bought at auction in June 2021 with a certificate of authenticity and the cabinet signed by the man himself. We have confirmed ownership and it's passage from Steve's own Gear Vault, to Julien's, to Michael from Greg Wurth, Steve's trusted producer and gatekeeper of gear at "The Harmony Hut", Steve's personal studio in L.A.
Michael has painstakingly captured this cabinet 3 times; each time with different speakers (as used by Vai over the years), so you can enjoy this legendary cabinet as Steve himself played it. 
Alien White '86
The original spec as previously owned by Steve Vai, loaded with original speakers and used extensively on the road with David Lee Roth, not to mention his own solo material. From 1986 – 1993, this cab was a mainstay on the "Eat 'Em and Smile", "SkyScraper" and "Sex and Religion" tours. Captured as shipped when Michael bought it, with Celestion® v30 speakers.
Alien Black '87
Loaded with the speakers more common at the time, the G12H 30W. When people say "in the 80's", they mean 30W Celestion's® – this is what they were talking about, the speaker that went on to become the V30
Alien Green '93
An exclusive insight into the mind of Michael himself: he loaded the cab with 20W UK Celestion® Greenbacks, his personal favorite era of GBs, giving a unique slant on this iconic cab.
 The captures were made in Michael's personal studio in L.A. (Ninja Tacks), with 8 industry standard mics: Blue® Dragonfly, Shure® Unidyne III 545, Heil Sound® PR30, Sennheiser® MD409, Shure® SM57, Coles Electroacoustics® 4038, Beyerdynamic® M160 and Royer® R-121. All mics were meticulously captured through  vintage API® 7600 channel strips with 212L preamps into Apogee® Symphony converters. As you would expect from Michael's no compromise approach to capture, everything was connected via Mogami® cables to ensure the purity of the signal remains intact.You can see, and hear, these amazing cabinets below!
A little walk down memory lane…
You can see Steve, in full "Vai mode" in the legendary Yankee Rose with that unmistakable White 4×12″
 If the world's most 80's production video is too much for you, then check out this "bootleg" guitar battle complete with a couple of classics, from the Eat 'em And Smile tour, '86.
Ah yes, the memories… utterly outrageous, but totally and completely breathtaking!