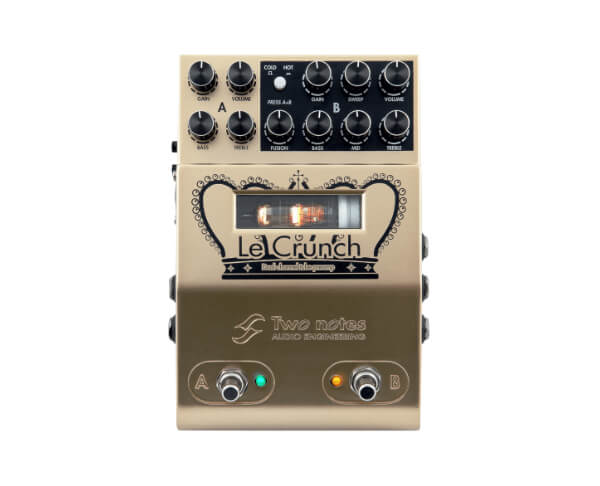 WALL OF SOUND INCLUDED
This product comes with a lifetime licence for the Torpedo Wall of Sound plug-in.
Load DynIR cabinets directly in your DAW and mix with complete control over your tone.
READ ABOUT WALL OF SOUND
Expand your cabinet collection
This product allows access to over 500 DynIR cabinets from official brands and studios.
Explore the collection now and find the perfect DynIR cabinets for your tone and style.
GET MORE CABS
Included DYNIR CABINETS & Effects
LE CRUNCH PREAMP (VIA WALL OF SOUND PLUG-IN)
Le Crunch Preamp comes with a lifetime licence of Torpedo Wall of Sound, complete with an incredible selection of 16 DynIR cabinets. With a wide range of included effects, you can mix your Amp DIs to studio standards.
INCLUDED VIRTUAL CABINETS (16)
Alichino : Inspired by Cornford® Harlequin 1×12" OB Celestion® Vintage 30 UK
Angl VintC : Inspired by Engl® 4×12″ Celestion® V30
Bayou : Inspired by Jenkins® Sound Lab 2×12" OB Eminence® Patriot Swamp Thang
Blonde 63 : Inspired by Fender® Bassman '63 Blonde Tolex Piggy Back 2×12″
Brit 65O : Inspired by Marshall® 1965A 4×10″ Celestion® G10L-35 open back
Brit Std : Inspired by Marshall® JCM900 2×12″ Celestion® G12T
Brit VintC : Inspired by Marshall® Slash Signature 4×12″ Celestion® V30 closed back
Green Tri : Inspired by Hughes & Kettner® Triamp 4×12″ Celestion® Greenback
Can Abyss : Inspired by Supro® Clone 1×12" OB Eminence® Patriot Cannabis Rex Hemp Cone
Ferret :Inspired by Suhr® Badger 2×12" OB Warehouse® Veteran30
Forest : Inspired by Elmwood® 2×12″ Celestion® V30
Free Rock2 : Inspired by VHT® Deliverance 2×12″ Eminence® P50E
Prime B : Inspired by Divided by Thirteen® FTR37 2×12" OB Celestion® Blue
Silver Jen : Inspired by Vintage Fender® Twin Reverb® 2×12″ Jensen® C12K
Voice 30 : Inspired by Original Vox® AC30 JMI 2×12″ Celestion® "Silver Bell"
Watt FanC : Inspired by Hiwatt® 2×12″ Fane® closed back
EFFECTS
POWER AMP EMULATOR :
Four classic tube types : EL84, EL34, 6L6, KT88
Two circuit types : Class A (Single Ended) and Class A/B (Push-Pull)
Two tube modes : Pentode and Triode
Volume, Contour and Depth knobs
5-BAND EQUALISER
Sculpts the tone coming out of the Virtual Cabinet

Five customisable semi-parametric bands going from -20dB to +20dB (and a low-cut filter)
EXCITER :
Dynamics and frequency shaping tool to beef up your tone

Low and High knobs for low-end and high-end emphasis
REVERB :
8 legacy Room Ambience algorithms (Studio A & B, Loft, Cathedral, Basement, Hall A & B, Crypt)
COMPRESSOR :
Based on high-end studio rack compressors
CABINET MIKING
DYNAMIC IR SPECIFICATIONS :
Virtual Cabinets come with captures from 8 studio and live microphones (Dynamic, Condenser, Ribbon)

Dynamic IRs are phase-corrected, preventing any phase issue

Blend two microphones together

Have direct access to 400+ Virtual Cabinets via the DynIR Cabinet Collection
MICROPHONE POSITIONING :
Distance : from close miking to room tone, seamlessly

Axis : from cone center to speaker shell, seamlessly

Front and back of the cabinet
Frequently asked questions
LE CRUNCH PREAMP
Everything you need to know about the Preamp pedals
There is simply too much to write here about what sets these apart from the others. If you want to go full nerd, you can in this article.
---
What is "Fusion Mode"?
Fusion mode allows you to stack the two difference channels of the Preamps. You can find more about it in this article.

---
What's the difference between Channel A and B?
With two very distinct voicings, it's like having two very different preamps in one unit. You can find more out about the channels in this article.

---
Is it 100% analog?
Apart from a couple of internal microcontrollers that are not within the audio path, the Preamps are 100% analog.

---
Can I change the built-in cab sim? Can I load IRs?
The speaker sim within the Preamps are analog and are hardwired in. There are no Virtual Cabinets or IRs within the unit.
---
Specifications
LE CRUNCH PREAMP
Preamp tube
Model:
Ruby 12AX7AC5 HG
Input / Output
Input :
1/4″ Jack unbalanced (TS) 1 MOhms impedance
Return* :
1/4″ Jack unbalanced (TS) 2.2 MOhms impedance
Max input level : 17dBu
*Unbuffered, directly connected to Output when active
Output :
1/4″ Jack unbalanced (TS) 300 Ohms impedance
Max output level : 11dBu
Thru* :
1/4″ Jack unbalanced (TS) 1 MOhms impedance
*Unbuffered, directly connected to Input

Send :
1/4″ Jack unbalanced (TS) 300 Ohms impedance
Max output level : 11dBu
DI Output :
XLR balanced 600 Ohms impedance
Max output level : 10dBu
Phones :
1/8″ Jack balanced (TRS)
Tone control 
Channel A :
Passive Bass / Treble tonestack

Channel B:
Passive Bass / Treble tonestack
Active Mid/Sweep control
Gain : -18 to +6 dB
Frequency : 300Hz to 1.5kHz
Power
Power input connector:
DC connector, 2.1mm x 5.5mm, center negative
Supplied adapter:
100-240v AC to 12v DC 1A
Power consumption:
Approximately 6W
Current consumption:
500mA
Dimensions & weight
Width x Depth x Height*:
12.4cm x 18.9cm x 5cm – 4.9″ x 7.5″ x 2″
*Including connectors and knobs
Weight: 750 g / 1.65 lbs